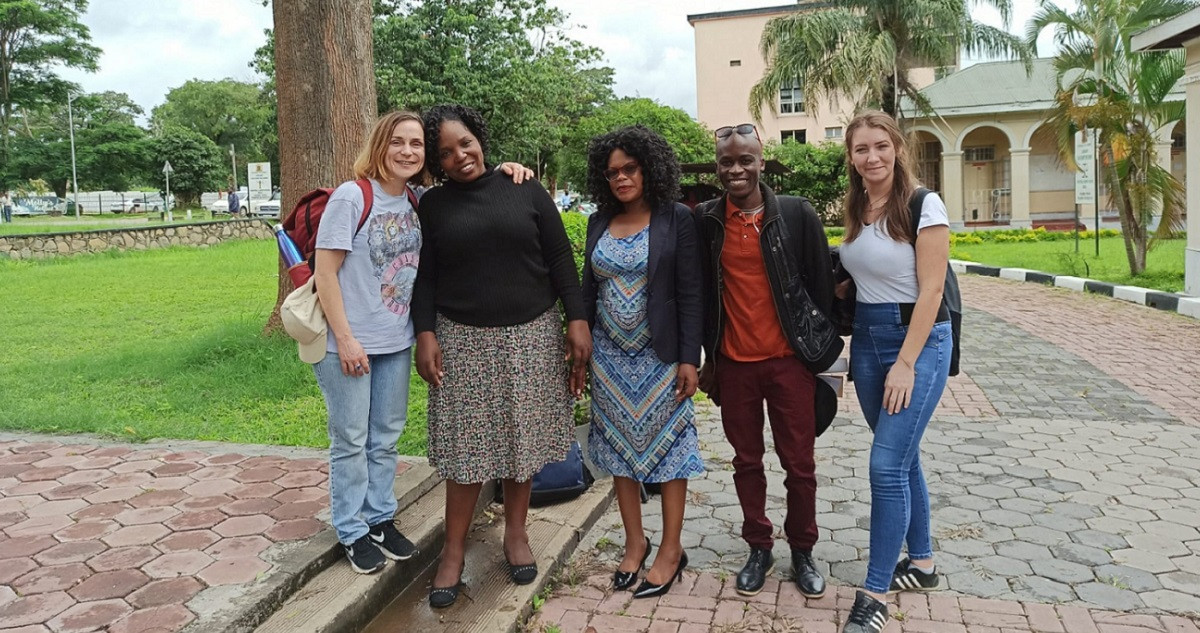 By David Hegedus, Poverty Activist team August 2022
Hi, hi! Here is David! First of all, I want to let you know that we arrived safely in Zambia. Secondly, I could write a lot of things right now, but we are very busy every day because of our project and because of this I don't really have too much time. So, for now, I just want to tell you the most important things from the last two weeks.
First impressions of Ndola, Zambia
After our plane landed successfully and we left the Ndola airport with our large team of 8 people, colleagues from DAPP (CICD's partner organisation) were already waiting for us to transport our team straight to our accommodation, which we just call DI's house - and this is where it all started! Along the way, we were able to experience the real Zambia firsthand, and with our own eyes:
Huge amount of people, shops and local traders of all kinds, red sand, extreme heat, beautiful and green nature, huge cactus and palm trees, women carrying baskets on their heads, mango, avocado, lychee, pomegranate and banana trees everywhere, and of course the poverty...
We had a very warm welcome at our accommodation and after the introduction, we got our rooms, then lunch and everyone could relax after the more than 30-hour journey. The people from the DNS Mkushi (a teachers training college) arrived in the afternoon to pick up the 3 members of our team who will stay at DNS to support the education and other activities there.
After nearly 12 hours of sleep, we had a delicious breakfast and were already on our way to DAPP - NHQ (National Headquarters in Zambia). Here we met the project leaders. After that, we was shown around all the NHQ offices, so we could find out what was located inside that huge area. After we were done with everything, we got to try one of the first real local foods, Nshima (essentially semolina) and Chiwawa (pumpkin leaves cooked with tomatoes and onions). It was surprisingly delicious! I'm a fan of meat, but I really liked this meal.
In the afternoon, the remaining two teammates left us and headed towards Children's Town in Chibombo to prepare to start with their responsibilities. So there were three of us left in the team; Me (David), Kitti and Mafalda (The NHQ DI Trio). Our afternoon was spent relaxing! Of course, we were very happy about this... in spite of many hours of sleep at night, we were still very tired from the long journey...
The next day we made our first city visit in the city center of Ndola and here we were confronted with the fact that things work here completely differently than in Europe (Actually, why would it work exactly the same? After all, we are in Southern Africa, right?).
So...
Transport culture
It's just very confusing, but funny at the same time. Traffic lights and other rules are unknown here, at least compared to our usual European traffic culture, it is totally different). The one who got here or there sooner has priority. The drivers pass a centimeter or two away from people walking on the side of the street or signal that they are coming by honking their horns. The secondary and main roads are decorated with 1-5 meter potholes, which local drivers maneuver very well to avoid. However, we managed to establish one thing very quickly: not a single car would pass the mandatory technical inspection here either. Anyway, it may seem scary at first, but the "transport system" works quite well and there are far fewer road accidents in Zambia than in my country (Hungary) (annual average 2022). Maybe this is due to people's calmness and patience? Probably yes.
Many friendly greetings and local customs

The locals are very friendly. As a rule, they greet us, come up to us, shake hands with us or put their hand on their chest to express their respect/greeting and almost everyone thanks us for being here - we have already learned the latter gesture, so we return the kindness and respect every time. We also continuously learn and practice the language of the locals, Bemba - this is how we try to build a relationship of trust and friendship and of course, learning another language is not a disadvantage either.

Challenges

Dealing with people who ask for money or food can already be added to the list of challenges. It's very difficult... In some cases, the begging takes the form of being followed down the street for a while. This may also seem terrifying, scary and annoying at first, but the truth is that we need to dig a little deeper into the cause, understand it, and treat it accordingly.

The importance of understanding history

First of all, the role of the white man (Muzungu, as the locals call us here) usually fills two very different levels in the eyes of the people here. One is the role of the very rich and "white man above everything", while the other is the "plundering" and constantly exploiting white man - the latter is "felt" more in the older age group - probably because they still remember the horrific and shameless events that took place under apartheid.
The good news is that based on our experiences here in Zambia, we have not yet been made to feel that we are not welcome guests. In fact! The opposite! We had a very good conversation with a DAPP colleague who firmly confirmed that it is not typical of people living in Zambia to despise "white people" .
The situation is that it would be completely understandable if we did not receive a warm welcome, after all, white people came to Africa most of the time with the aim of exploiting the continent's natural resources - the result of this nowadays is that in some African countries we are not that much welcome guests - luckily, it is different here, thanks to the people, groups and organisations like Humana People to People that have built trust between the local people and the people who intend to help over decades. Of course, opportunities for cooperation and development also opened up, since there is a common goal!
So... back to the people who are asking for money. As a friend of mine was saying (who has been to Africa several times): "it's an infuriating, annoying, regrettable and even a little guilty feeling that you can't get used to..."
...I totally agree! If we give (even if we are talking about 1-2 dollars, it may seem like nothing) then the next day we have to give again, if not to the same person, then to someone else - and good things are easy to get used to - and in the long term this is absolutely not sustainable. In fact! We're that way doing damage, by conserving old roles that need to change - and that are changing.
So overall. My teammates and I have already realised that we have to be very careful with what we show, how we do, what we do and most importantly, WHAT we leave behind during our time here. It might be a very difficult situation, but we can help to bring some kind of progress and development to the lives of more children, mothers or more families. We strive for the latter and try to make extra efforts for our project.

Afterthoughts

Based on what we have seen so far, in contrast to the media, the reality here is totally different. Poverty is much more visible and tangible than what we see on television. And instead of being aggressive or hateful, the people we have met are very friendly, respectful and affectionate.
We will "meet" again soon! I will also summarize the details of our project in the next post.
See you!