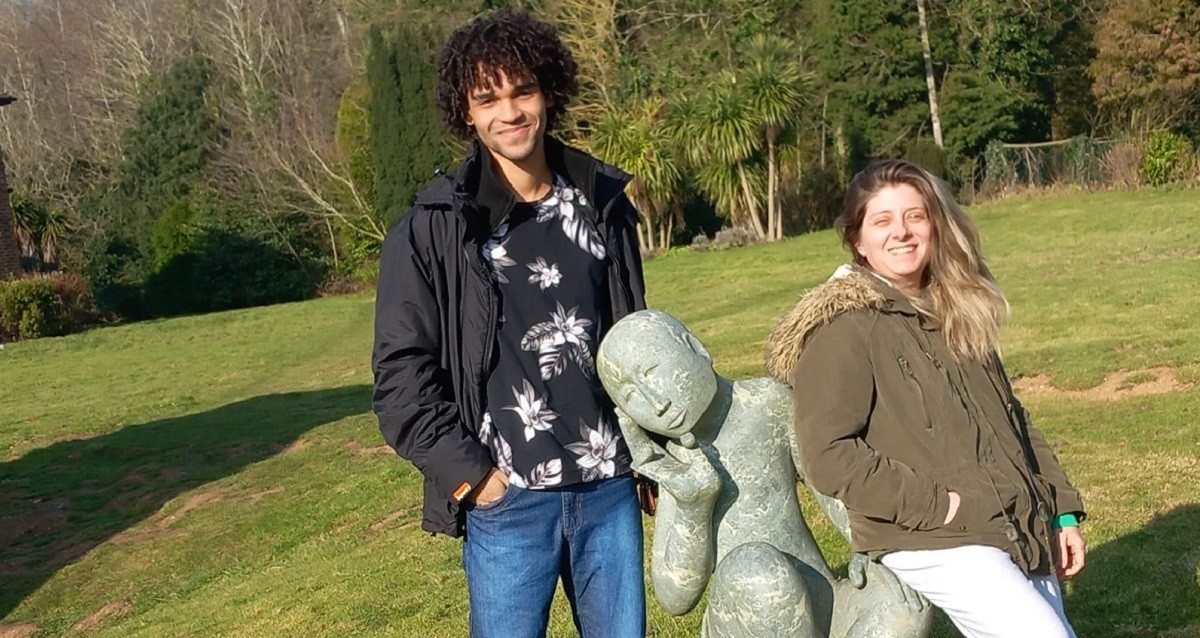 Why did we decide to become Poverty Activists at CICD?
Read our stories here - and send a message to us to schedule a video call if you want to hear more :-)

This email address is being protected from spambots. You need JavaScript enabled to view it.
" Hello, I would like to share my experience at CICD.
My name is Ana, for some time I did research about volunteering. What I was looking for was to be part of a structure that would allow me to learn more and use that knowledge in practice.
Then I found CICD. I was offered the opportunity to do the Gaia Programme.
The Gaia programme is a way to be integrated into the school and the community and at the same time be able to raise the scholarship for the DI (Development Instructor) programme giving me the opportunity to be part of a Project in an African country or India.

During Gaia we take part in all the community activities, there are study days when we address issues such as biodiversity or refugees, we are explained how our pedagogy works, we are immersed in a learning method that it is called "learn by doing" and why CICD is "Another Kind of School".
The work for which I was responsible is called "Site Finding" – despite the difficulties and inexperience, the Site Finding helped me develop skills that I had no perception of being useful and necessary.
There are other activities associated with Gaia programme and they all make the school function in a consistent way.

Right now, I am part of the Poverty Activist Programme. During this period, we work as a team and we deepen our knowledge about the projects, work on skills and we develop others.
Living in a community and being an active part of it has been a pleasant experience. Of course, it's not always easy, often due to ego, but when working side by side with the teachers, there's always an excellent openness.

It doesn't matter where you come from, what kind of training or experience you have or what you possess. At CICD we share knowledge and we learn from each other.
Welcome."
Hiago from Brazil:
Before coming to CICD, I worked as an interpreter.
And since I started it, I felt like what I was doing was making a difference to others. I had the chance to help immigrants, and patients in hospitals, strategize hearing defenses, help deaf people communicate with their families, etc.
And that's what I chose to do after the program is finished.
And here I'm having the same feeling but immersed in an environment with different cultures and backgrounds, and it's extremely rewarding.
For the last four years, I've been looking for an international experience opportunity. I've found a few along the way, but they're were not alligned with my
personal goals. I didn't want to work or study something that I didn't relate with. To give you an example, it'd be easy to find jobs IT related. This field is interesting for me, yes. But that's not what I wanna spend the next years doing. Then, finally I found an opportunity here at CICD that would give me the feeling that the job I'm doing and the things I'm learning are useful and helpful for other people.
The clearest benefit that I will get from this is personal and social development and teamwork. On top of that, international experience always makes your CV shine in the eyes of HRs.
But actually, since day one, I've been benefitting from this experience. I've made amazing friends. I'm learning a lot from them and from my teachers. This program gave me a chance to know myself better and identify and deal with cultural differences. Which is also extremely important in what I chose to do. I'm also being able to raise a scholarship by volunteer work. If it wasn't for that, I'd still be in Brazil. And it excites me to think that it's just the beginning. I can't wait to do investigation projects, start the PA (Poverty Activist) programme and learn how to help poor communities, and last but not least, spend 6 months on a project in Africa using everything that I've learned here.