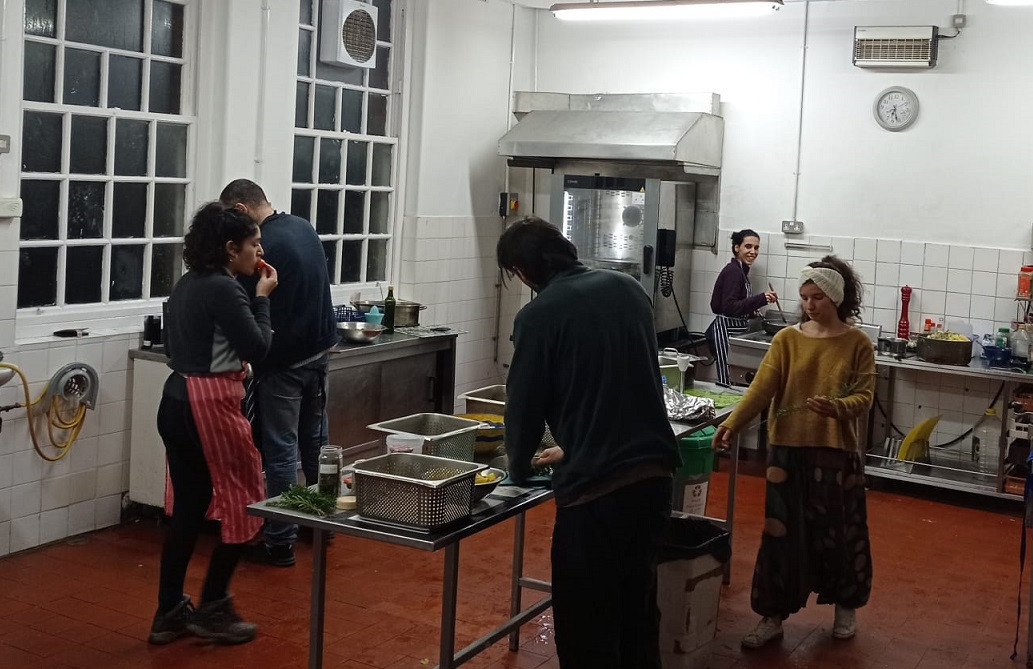 The Climate Activist team invited all of us for a fantastic dinner earlier in the week...it was beautiful, really tasty and well prepared...and: made only from what we have grown in our garden farm: pumpkins, courgettes, different vegetables, potatoes, herbs and chicken! The only exception was a bit of oil, salt and some lemons!
To eat this together was truly double happiness - we could enjoy a meal with no chemicals, no plastic waste from the packaging, no air miles transporting it here, the chicken healthy without added hormones...Mmmm!
It felt very good that it is possible! Because this points towards the future...the globalised food production and the way we shop now in the supermarkets will have to end, sooner rather than later - it is completely un-sustainable and it is part of the problem making global warming worse.The future belongs to local farming.
Here below you can see the menu:
Starters:
•Cabbage leaves with lemon (oven)
•Pumpkin with rosemary and olive oil (oven)
•Parsley salad: parsley, pepper, tomatoes and a cup of lemon, and a bit of salt and olive oil.
•Courgette soup. Fried courgette, cabbage and celery with thyme and bay leaves. Added potatoes and water. After all ready: mix with the mixer.
Main menu:
•Potato cake. Mashed potatoes with oil, oregano, rosemary and marjoran. Adding: stamps of cabbage and celery with basil (boiled first), leaves of cabbage with salt (fried first), pumpkin (in the oven first) and courgette with thyme (in the oven first). And finishing the cake with another layer of mashed potatoes.
•Chicken marinated in lemon. Cooked on a bed of celery, lemon, peppers with shredded cabbage and tomatoes. Spices: marjoran, lemon balm and rosemary.
•Mayo cream. Eggs, oil and lemon.
•Potato chips. Salt, pepper and oil (oven).
Dessert:
•Apples in the oven with a fusion of mint.
•Hot tea. Two varieties: mint and lemon.