3 of us from CICD went to Denmark to participate in the conference at DRH Lindersvold, our sister school. We arrived at Copenhagen Airport with high expectations and enthusiasm. As we (Alessia - 3 months Climate Activist Team (CAT), Vasile - 5 months Climate Activist Team, Tamas - Teacher of 3 months CAT) were picked up and taken to the school, it was clear we could look forward to a really busy and fruitful weekend.
The program started on Saturday morning with Gert Tjoelker's welcome speech. He greeted all the participants from CICD UK, Norway school, DNS Tvind, DRH Lindersvold, teachers from all over the world and also people from nearby communities. He pointed out the main reason of the conference, namely the fact that our society and lifestyle simply destroys our planet and it is time to take action against it. The capitalist approach towards production, trade and education is extremely harmful, we must look at the consequences and find alternatives as soon as possible. We are running out of time, each day the ocean level rises, ice caps melt, soil degrades, forests shrink and so on and so forth. All the presentations during the day served the purpose of teaching and creating debates about this.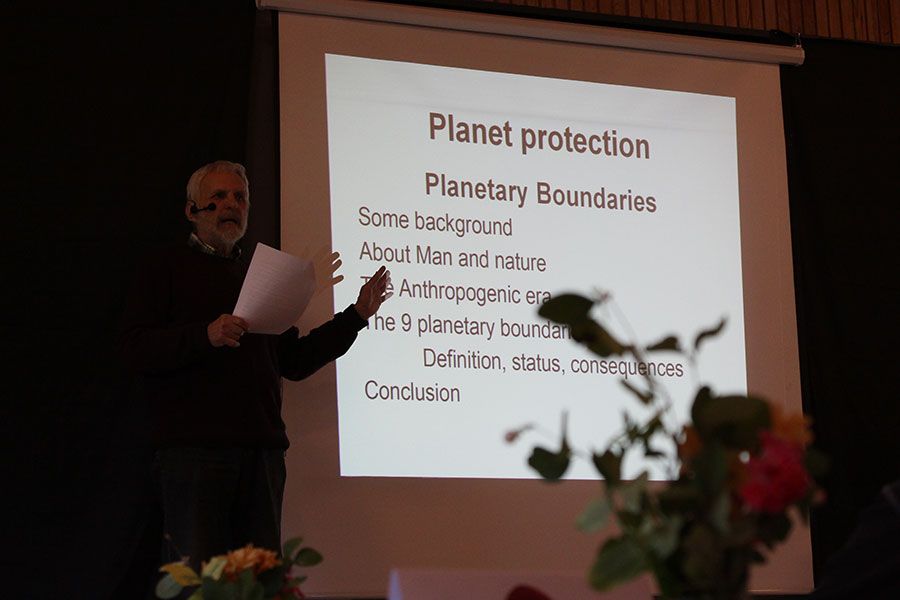 The first presentation was hold by Erling Grønlund about the Earth Systems and the 9 Planetary Boundaries. We heard about the 9 planetary boundaries, what has been created by an international group of scientists to be able to measure and monitor the human impacts towards natural ecosystems. 3 of the boundaries are already in the high risk zone, and the rest are continuously climbing towards that dangerous level. All the facts we heard, all the concerns we got made us aware of the seriousness of the current situation. Yes, we want to take action! Yes, we want alternatives for the next generations to come!
After Erling's speech we listened to a presentation about Eco Socialism as an alternative by Gert. He described a possible society for the future, based on equality, solidarity and living together with nature in a symbiotic way. The way how we could produce, live, develop and survive in a sustainable way without exploiting our mother earth. We had a debate in groups about the topic, and we were finding possible methods to implement this idea.
And then it was time to have a delicious lunch together, recharging with energy before we are going forward with the agenda.
The second part of the day has been started with Kaj Pihl's presentation about "The environmental effects of the fashion and textile industry and what to do about it." We heard about fast fashion, business strategies and the destructive impact towards nature. River and air pollution, sweet water usage and enormous amount of garbage what we have to face with, meanwhile huge textile companies use the term "sustainable" in order to increase the sale. Solutions? Recycling, purchasing by necessity instead of desire, protesting for new regulations, etc…. we always have options to fight against exploitation and destruction… good to know!
The next lecture was given by Karl Henning Mikkelsen who is bio-dynamic farmer in a nearby farm in Denmark. He shared his experience about this complex and amazing farming methods, by giving comparison between bio-dynamic and organic farming. He described the approach and the implementation phases as well.
After this instructive and unforgettable speech we were working again in groups. Each group created 5 statements about "what main issues we face" and "how we will protect the planet", posters were made and put on the wall to share thoughts between different groups.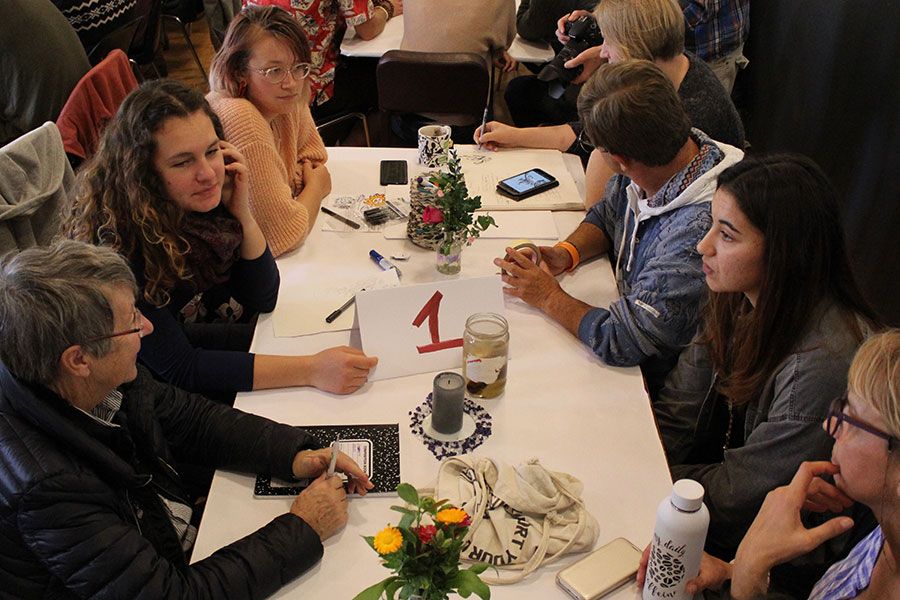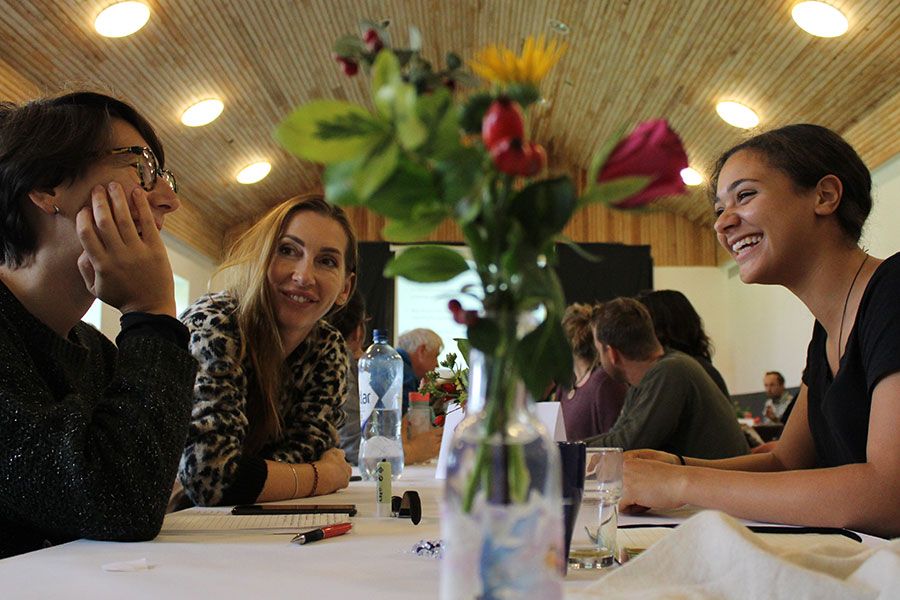 The last presentation was about "teaching and learning for a sustainable tomorrow" by Alex Benesch. He has given to us an alternative for the recent educational system and subjects as such. He argued that the students should be in the center of the education, and the system is supposed to be much closer to the nature and the environment. This future educational system will prepare the students to solve problems, by developing practical skills and giving theoretical knowledge as well.
The program of the first day finished with group discussions again. We drew conclusions of the content of the day. So much information and shocking facts for a day. Many things to think about, and share with the others. We got inspiration and insight into a possible future society we have chance to create to eliminate capitalism. That should be the ultimate goal.
On the second day the focus was on practical tasks. We had been divided into bigger groups in order to realize our own project of the day. Vasile and I were making a chicken house for the hosting school with one group, while Alessia was in a group that constructed raised vegetable beds for organic production. Besides these groups we had an art team what produced a painting inspired by the challenges of climate change and global warming.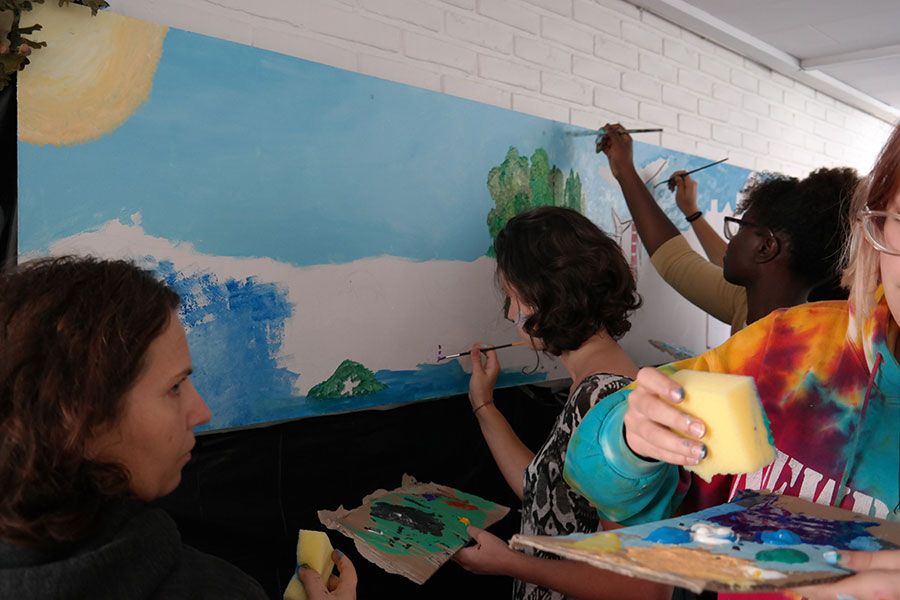 The remaining two groups were responsible for creating a website for this event (http://planet-protection.org), and making a sort video and pictures of all the activities. The practical day ended with huge success. All of the groups succeeded with their project. That is all we need to close an amazing conference full of nice and motivated people. Share knowledge, educate people and develop practical skills. That is what we achieved during this weekend, and we could return to CICD with good memories, useful knowledge and with a vision of a future ecological society that gives opportunity for the upcoming generations to develop and live a meaningful life.
That is how I experienced this event, with joy and learning and good food and interesting people. Thank you for this experience and all the memories Lindersvold. See you soon - hopefully at CICD UK to realize another useful and rich conference about burning issues, and needed solutions!