From Wikipedia: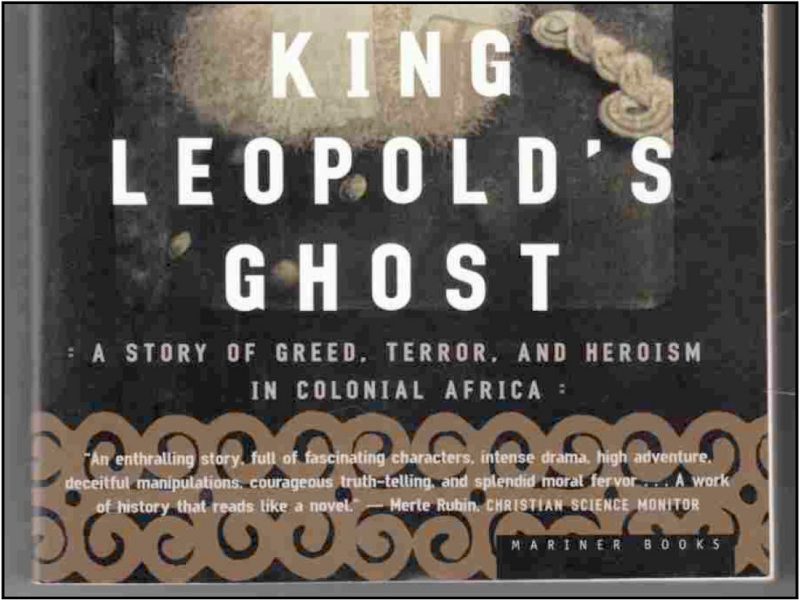 King Leopold's Ghost (1998) is a best-selling popular history book by Adam Hochschild that explores the exploitation of the Congo Free State by King Leopold II of Belgium between 1885 and 1908, as well as the atrocities that were committed during that period.
The book aims to increase public awareness of crimes committed by European colonial rulers in Africa. It was refused by nine of the ten U.S. publishing houses to which an outline was submitted, but became an unexpected bestseller and won the prestigious Mark Lynton History Prize for literary style. It also won the 1999 Duff Cooper Prize. By 2005, some 400,000 copies were in print in a dozen languages.
The book is the basis of a 2006 documentary film of the same name, directed by Pippa Scott and narrated by Don Cheadle.
The title is adopted from the 1914 poem "The Congo", by Illinois poet Vachel Lindsay. Condemning Leopold's actions, Lindsay wrote:
Listen to the yell of Leopold's ghost,
Burning in Hell for his hand-maimed host.
Hear how the demons chuckle and yell,
Cutting his hands off, down in Hell.

The story chronicles the efforts of King Leopold II of Belgium to make the Congo into a colonial empire. With a complex scheme of political intrigue, corruption and propaganda, he wins the assistance of one of the best-known explorers of the time, Henry Morton Stanley, as well as that of public opinion and of powerful states. Through the Berlin Conference and other diplomatic efforts, he finally obtains international recognition for his colony. He then establishes a system of forced labour that keeps the people of the Congo basin in a condition of slavery.

The book places King Leopold among the great tyrants of history. The death toll in the Congo under his regime is hard to pin down, both because accurate records were not kept and because many of the existing records were deliberately destroyed by Leopold shortly before the government of Belgium took the Congo out of his hands. Although Wm. Roger Louis and Jean Stengers characterize the earliest population and mortality estimates as "wild guesses", Hochschild cites many subsequent lines of inquiry that conclude that the early official estimates were essentially correct: roughly half the population of the Congo perished during the Free State period. Since the census taken by the Belgian government (after acquiring the Congo from Leopold) found some 10 million inhabitants, Hochshild concludes that roughly 10 million perished, though the precise number can never be known.