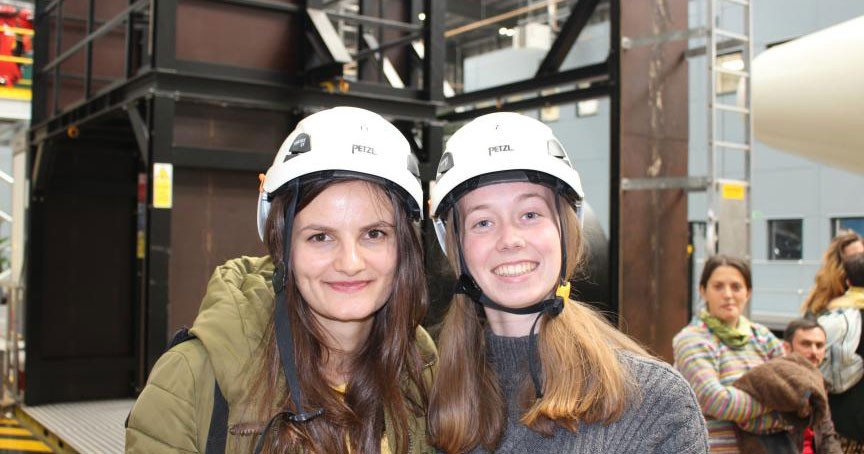 On the 24th of September we had the possibility to visit Siemens Gamesa at their training centre in Hull. All this was made possible by Allan and Britta who are working with the Tvind Wind Mill in the Danish town Ulfborg, which was built by volunteers in the 1970's as the then world's biggest wind mill .
More about the Tvind Wind Mill and its' relation to Siemens can be read here https://www.tvindkraft.dk/en/a-trailblazing-windmill/the-tvind-windmill-showed-the-way.html
Also listen to this https://soundcloud.com/cicd/building-the-biggest-windmill-in-the-world podcast in which our Headmistress Karen who has been one of the volunteers building the Tvindmill speaks about it)
While in the factory in Hull only the blades for the windmills are built, the training centre enabled us to get insight into windmills in general. When we arrived, the head of the training centre gave us an introduction on the wind power sector of Siemens, the tasks of the centre and the education programmes and we had the option to ask all questions which we had. He told us for example about the high impact longer blades have on the energy which is produced and also explained that wind energy is a sector of growing importance in many countries.
Afterwards, we divided into two groups. While one group at first got an introduction into the safety training which is offered in the centre, the other group was equipped with helmet caps and got the opportunity to go into different types of Nacelles (kind of the head of wind turbines) which surprised all of us with their tremendous size. Inside the turbines, we could see how much technique is involved in the process of producing energy out of the wind and also how important it is that all the components work without mistake for a long time -especially if it is an off-shore turbine and therefore only accessible via boat or helicopter. Meanwhile, it is astonishing to see how much energy can be generated just by the power of the wind - one turn of an average wind turbine is enough to cover a family's daily use of electricity! Afterwards the two groups changed so that everyone could see everything and take the most out of this excursion.
A big thank you for this experience goes to the staff from Siemens for enabling us to get the insight, Alan and Britta, who by the way also made presentations at CICD about the Tvindmill and wind energy in general, and I hope that future Gaia's and volunteers will have the possibility to visit the Training Centre as well!
Svenja Schroeder, Gaia student and future Climate Activist for India