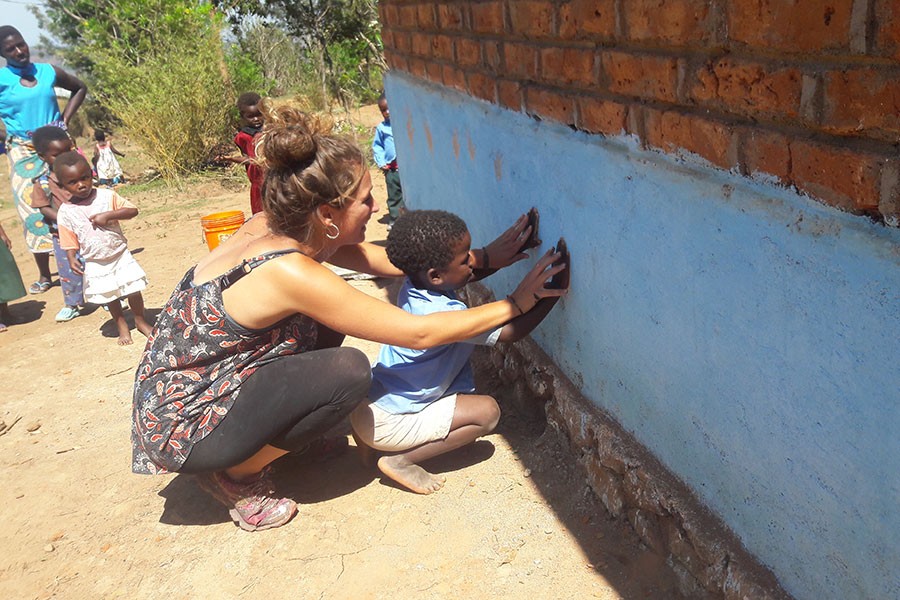 By Sara Simson, Development Instructor in DRH Lindersvolds Fighting with The Poor programme
This program and the wealth of experiences that now I carry with me have changed me. The programme was 24 months in total, and 8 of them I spent in Malawi.
If I think about how it all started, I realize how different I am. I started with a small idea of what I should have faced and learned in this program. A romantic idea of volunteering, childish and probably selfish. The first year was a fundamental part of my personal growth for different reasons. A year dedicated to studying topics that helped me to have a global and critical view of the world around me and its issues.
I was part of a team and I needed to face with them all my experiences, and activities. Together we needed to understand and to find a way to fit with all our diversities and personalities.
Living with other individuals and working with them has often been more complicated than I expected. I have always been a person who runs away from problems or avoids facing them, but working with other people makes the idea of escape impossible, so the only thing left to do is to face the issues and work on it.
To be honest, I don't think I've dealt with my problems in the best way, often finding myself forced to work or live with another person have been painful, probably for both of us, but at the end of this period, working in a team, sharing experiences and opinions has become a necessity .
The experience in the small schools as a pedagogue was another important part of this first year.
Working with problematic kids, living and interacting with them was complicated. But once I could get into their everyday life it became easy to get emotionally transported from their lives and getting involved it has been inevitable. It was a highly formative experience that I carry with gratitude.
The following 8 months were exciting, an educational experience.
What I will remember most from that period are the Malawians smiles, the intense red of the ground, unconditional generosity of the people, the cornfields, the tea, the sense of community and solidarity that we have lost for a long time.
Working with the communities, specifically in preschools projects and discovering that all the teachers who worked with us were volunteers moved me. These women or men have decided to dedicate themselves to the education and the future of children. And this makes them exceptional to my eyes.
Living a similar experience forced me and my teammates to question our ideals and beliefs.
It is really difficult to face the poverty and suffering of other people. Normally as individuals in our culture, we try to avoid poverty, to hide it and to escape the discomfort that gives to us.
This is probably why my experience in Malawi, where I had the opportunity to live their problems, seeing the dignity and strength with which they face them and how they were going through those difficulties, changed me completely.
Coming home after a similar experience was difficult and strange at the same time. After returning to a routine that I had forgotten and ignored for 8 months, it surprised me how quickly and easily everything it's going back to normal, turning my memories of Africa into a distant dream.
This is why probably the Journal period is an important step of this program.
Telling about my experience and my work in Malawi allowed me to rationalize what I had experienced.
The presentations that I made in schools or in Cultural centers have allowed me to communicate and share my experiences and it was interesting to find out how people got emotionally involved in the stories I've told.


But even more interesting was to talk to the people on the street. Nothing organized, nothing official, just a chat with a stranger, an exchange of ideas and reflections on the experiences that I had. It was very formative and destabilizing at the same time, because being able to involve complete strangers in the street, convincing them to listen to me, forced me to put myself on the line.
At the end of these two years, I can, therefore, say that I have changed from many points of view. And I'm happy with my choices, and the opportunities that came with it, the new friendships that I have, a new knowledge and beautiful memories I will always carry with me.