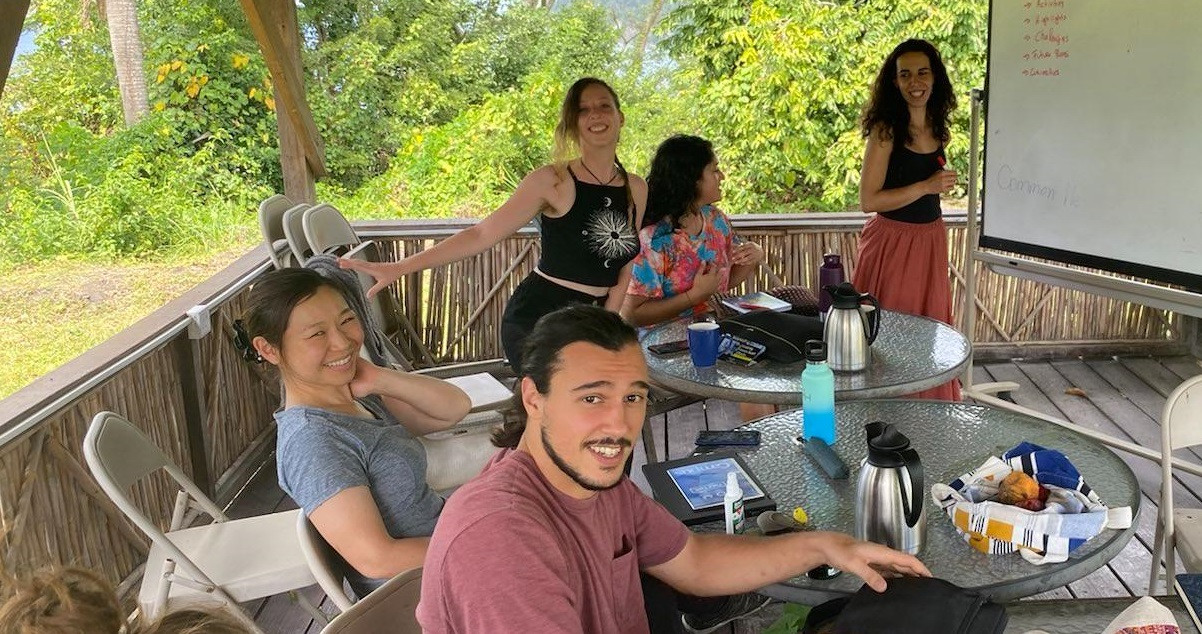 Hello from St Vincent & the Grenadines!

My name is Mel and I am the Climate Activist team teacher at CICD. In November 2020 we started up a new team at CICD that had a period of almost 2 months of getting ready for a project period of 3 months in St. Vincent and the Grenadines, working with local farmers and communities to improve food security. 2 weeks before finishing the preparation period at CICD the volcano on the island started to wake up and we couldn't manage to finalise our programme.
We waited from the beginning of 2021 until January 2022 – but now we are here, in Richmond Vale Academy (RVA) on the beautiful island of St. Vincent.
We arrived at the very end of January and have since then been part of the recovery of the Academy that is locally a beacon of hope and great example of how to organise sustainable food production.
There is much to do after a volcano explosion....
We have been part of recovering the Banana field and the Wax Apple field, pruning and cleaning out the areas – these have been our main activities. We have already tasted our bananas and the over 200 wax apple trees are now ready to grow healthy.
We have been part of a Coral class, a solar Panel class and a Caribbean History class as well. During these almost 3 weeks we have had an amazing Building Weekend where 50 people have rebuilt terraces, cleared out the pond, and cleared out the destroyed greenhouse. So much to do and so wonderful what the power of the collective has achieved.
We have tasted the best tropical fruits, learned how to use a machete, been to the black sanded beach and appreciated the tropical surroundings. We have met the beautiful people here at RVA, who everyday are fighting for a better world together with the local people. Sustainability runs through their veins.
We are getting used to the hot weather, the many insects and adapting to the challenges that come with a new country - such as understanding the local language!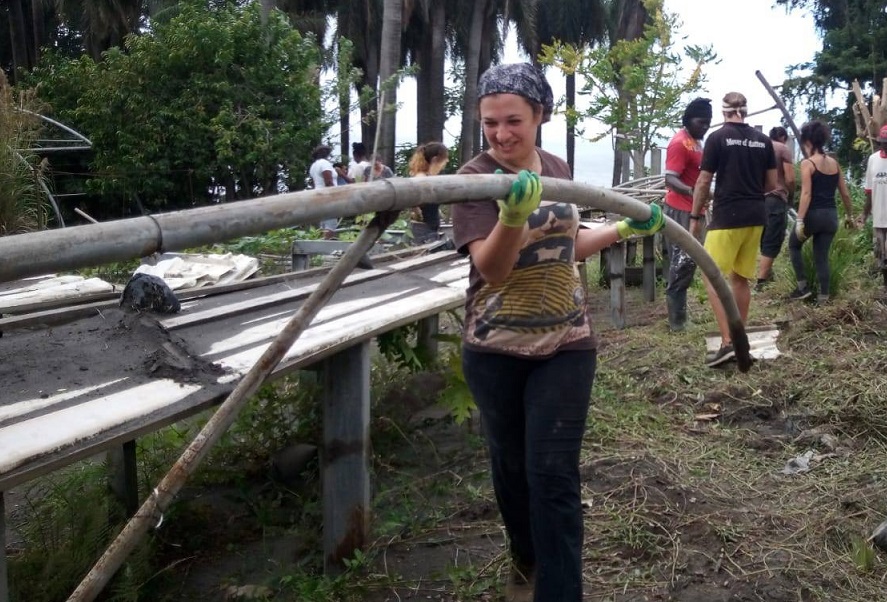 About our plans - and some experiences!

We ended February by having one more action where we recovered the chicken area that had been destroyed, and put up fences and fix as much as we can. For the month of March we will do 5 Beach/River Cleaning Ups with the communities, host 5 seminars on stopping pollution and for them both we need to do some Community mobilisation. We will also host and hold an Ocean Protection course for an Erasmus group here at RVA in April.
Stay tuned to hear more from us soon.
Sharing culture and learning to use a machete

The teachers at Richmond Vale Academy give great importance to include Vincentian people in their programs and working positions. It has been amazing to share with the local their culture and interest, to learn from their knowledge in agriculture, to know about their perspective in different issues and to feel that even if we live in different sides of the world and we have different access to privileges, here we are sharing the same spirit of change and improvement.
Another highlight was to learn how to properly use a machete. At the beginning we were using it as a knife in the banana field, but if you look at us today, you will think that we are already prepare for a zombie apocalypse. Have been tireless days but we can proudly say that we know how to sharp a machete to give precise hits and which is the best technic to pruning a tree by chopping their branches using only your body strength (yes, we are getting hot and athletics bodies by doing this).
Papaya!

Everytime we find some of the tropical fruits it's kind of celebration. One of the most popular is the Papaya. Due to this, while working, when someone finds a papaya just shouts ''papaya!'' and all of us around go to the spot to have a rest sharing this beautiful tropical fruit whose name is now our break code word. Not always we manage to get papaya, sometimes we find bananas or wax-apples, no matters which will be the snack, the whole team meets together at the call of ''papaya''.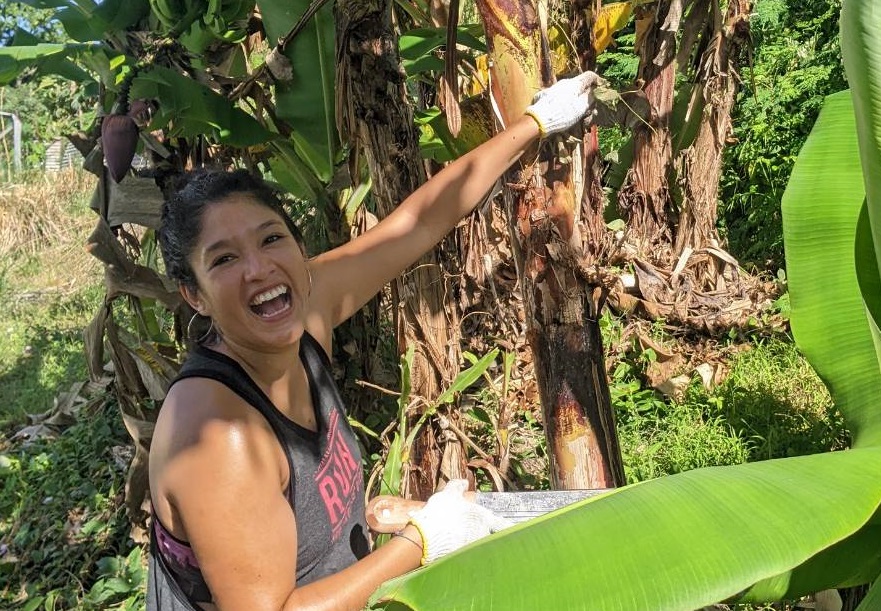 Some dangerous creatures

Another curious fact we loved to know about is related with real local activism that Stina (headmaster of Richmond Vale Acadmy) is actually doing. When we arrived, we noticed the presence of another dangerous creature much more harmful than monkey beans, ants or jellyfish. Humans! Humans on bulldozers! Destroying the coast and forest on their way just to build some resort. We were shocked so we asked Stina what was going on. She explained to us all what she was doing to avoid this environmental damage. How she found out all the bureaucracy they are missing to do it properly legal, and how she is working with her contacts to stop them.
Home Garden visit

One day we went to visit a home garden that other team from RVA were helping to restore after the volcano eruption. They explained to us the state in which they found that garden and all what they did until now. Which kind of compost they use, the "lasagna bed", how they mix different plants in the same bed, the nutrient each of them need, how to take care of the soil, etc. It was a wonderful class.
After the lesson the owner of the house (that was also a restaurant) prepared a delicious meal for us served in the peel of calabash.
Farmers Club in Chateaubelair

We had the chance to join the meeting of a Farmer's Club in Chateaubelair. Before everybody arrived one of the members showed us her own Home Garden. It's amazing the amount of food that they are able to grow at home, they are really well organised and there is very hard work behind. We have so much to learn from them. Later at the meeting they welcomed us and explained to us how they work so we offered ourselves to help them in whatever they need. Another co-operation is coming!