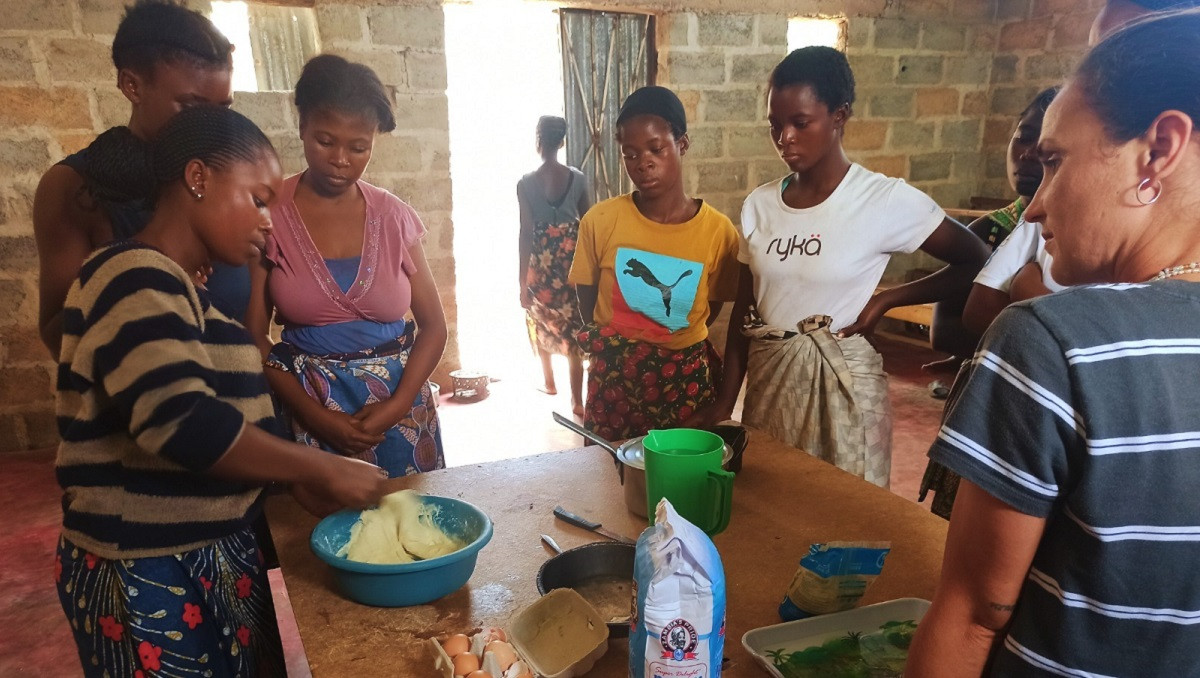 Hello again and warm greetings from Zambia!
We have been in Zambia for 2 months! I can't believe that these two months have passed so quickly. We still clearly remember the day we arrived. It's unbelievable... sometimes time goes by so fast that we think the time spent here won't be enough to accomplish everything we want in the project together with DAPP Zambia.
About DAPP Zambia
DAPP (Development Aid from People to People) is a non-governmental organisation founded in 1990. DAPP implements development projects in cooperation with the local population. The organisation currently has 40 different large-scale projects running throughout Zambia, in areas such as agriculture, Child Aid and community development, schools, health, self-help groups, farms for local smallholders and of course, education - and this is where we, development instructors, come into the picture!
Youth in Action is a very recent project, the aim of which is to educate and promote the local youth towards a self-sustainable and more efficient life. The project also encourages young people to acquire their own skills and occupations and this way also contribute to the socio-economic growth of the country.
As development instructors, our task is to provide young people (age group 13-18) with a platform where they can share their experiences, ideas and challenges with each other and, most importantly, to receive support and motivation from us and from each other. Our other tasks include the continuous support, development, and promotion of the project, the creation and implementation of new ideas, and the supervision of the young people.
Facing the reality of extreme poverty
I think after 8 weeks, we can say that we are more or less used to the Zambian environment and have settled into work quite well. We still face a lot of challenges every day, but I think that as a team we can support each other very strongly to stay objective and focus on what we really came here for.
In recent weeks we have worked in areas where people live in deep poverty and face daily challenges such as access to clean drinking water and food. I can say that our eyes can get used to the sight of such a place, but our heart and soul never. The atmosphere of the poorer areas makes a person sad, self-critical and happy at the same time. You become sad because of what you see, but at the same time you get happy because the people who live there seem happy despite the poor conditions and can put a smile on your face. At least I feel this time to time.
We are currently working with young people and young mothers in the mentioned areas. Our task is to impart theoretical and practical knowledge to the various groups with the aim of helping their lives move in a more self-sustainable direction. The project is great! The goals are good - and it comes with lots and lots of challenges.
Mobilisation of Youths
We have 4 or sometimes 5 group meetings a week with the Youth Groups and Young Mother Group as well.The previously mentioned communities have separate leaders. These leaders are selected by the DAPP Zambia organisation based on long observations. Youths who want to know the most, who are diligent and willing to make efforts to move the group forward will become leaders. In return, the leadership candidates are given special training and education over time in leadership and mobilisation skills.
Some groups are very well organised. A few days ago a group of Youths (30 people) from the Nkwazi community came up with the idea of building a horticulture business together in some areas in Ndola. They wrote down the concept, their needs, their challenges in a very good and organized way and came up with a concrete plan on how they would like to implement the idea. And we, development instructors, supplement their already almost 100% plan with a couple of suggestions, which were very well received. This week, we have already started working on the first steps.
...and here's something else I want to brag about!
We started a cooking club together with the Young Mothers in Ndola
Two weeks ago we were given the task of coming up with new and creative ideas within the framework of joint group meetings with the young mothers, on how to generate income in a poor region like Chipulukusu? After a few hours of brainstorming together, we decided why not try cooking? Everyone will need food as long as they live.
...and the thing is in this area our team is inexhaustible in terms of ideas. So why not teach them something unique and special that might be new not only to them, but might also to the whole city? This is how we managed to come up with an idea that is cheap, delicious, filling and quick to prepare. And this dish is a popular Hungarian side dish, "Nokedli" - essentially a type of pasta, which is very filling.
Flour, eggs, salt, water and two spoons are needed to make the final product. It is that simple! This dish is easy-to-prepare and low cost - the latter was a very important consideration in the choice, as most people in the country live and eat on an average of $2,5 a day. Fortunately, "Nokedli" can be prepared for less than 3-4 dollars, and in a huge amount, which is enough for a family of 4-5 people for a meal at least for 2 weeks almost every day..
But this is not the only dish we tried in the "cooking club". We also made jam! In Zambia, March is Guava season so the first jars of jams were made from it. The campaign was so successful on the first try that the ladies ate the jam while it was still warm. Hahaha, it was amazing to see it. In the coming months, we will also try to make jam of Papaya and Mango.
However making jam may not be sustainable in the long term, as a lot of sugar is needed to make the perfect jam. And sugar is very expensive in Zambia. It can also be made with less sugar, but unfortunately the end result will not be of the same quality as it should be. This idea of ours still needs to be refined...
We considered the most important thing when creating the mini-project to give practical knowledge to young mothers, all in such a way that it would be profitable in the future. The final products, such as jam, can be used for several purposes: for own consumption as well as for sale. In Ndola, the city where we live, we have not yet met anyone who knows the secrets of making jam - that's why it can be considered a novelty and a specialty - and everyone loves the unique and new, without exception!
I think we are once again one step closer to a more self-sustainable life!
You will hear from me again soon!
Until then, all the best and enjoy the spring!