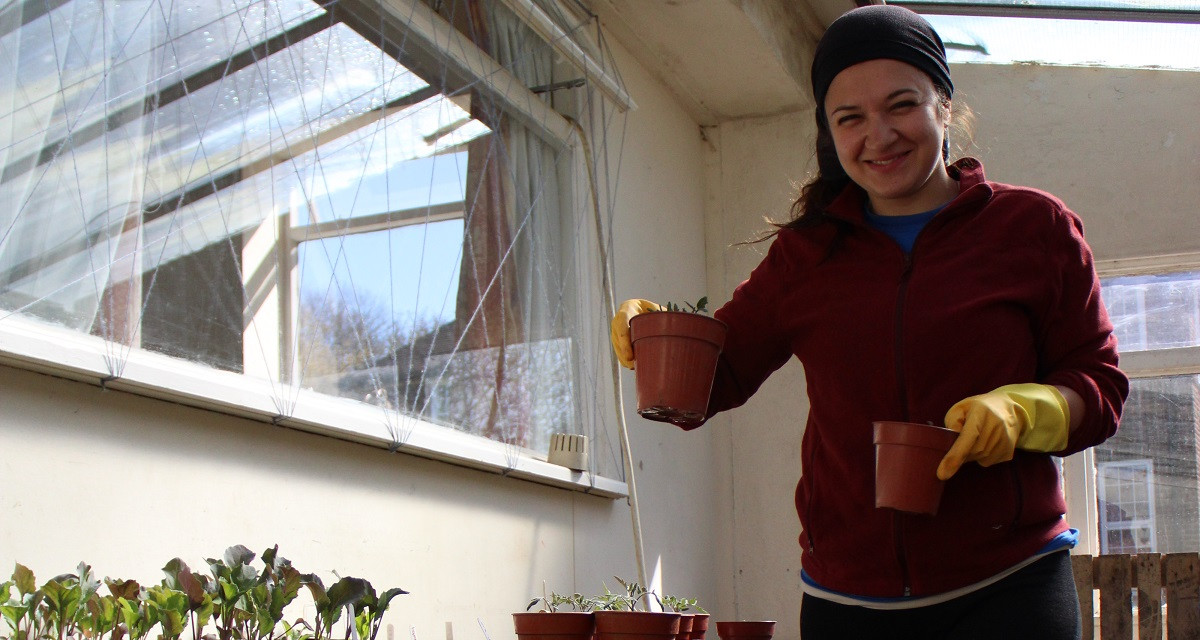 By Melanie Pita, Climate Activist teacher
A new garden season has begun and with it a lot of new tasks. At CICD we have four sections for our garden production. The small walled garden, the big walled garden, the greenhouse and all the flower areas. We have made plans for our garden farm for the next 5 years and now it is time to get the hands into the soil and get prepared.
Let me start by telling you about our new greenhouse, in a building outside the walled garden. There we have 3 raised beds where we will be planting tomatoes, red pepper and cucumber. This greenhouse is where we right now have started our nursery with cabbage, tomato, celeriac and some other crops. This year we have taken the step to join "Garden Organic" which is an association where many organic farmers connect, ask questions and have guidance from each other. In this association there is also a Heritage Seed Library that is where all our seeds for this year are coming from. Organic seeds, most of which are adapted to UK climate. We are happy with this. The first seeds have arrived and we have already seen the little seeds growing into seedlings.
In our big walled garden we currently have around 30 birds (chickens and ducks). There we have recently built our Chicken Hotel. a new area for the chickens, with new houses and new structures. They are happy and laying eggs - almost 20 eggs every day.
In the big Walled Garden we want to continue what we had such a big success with last year. The last season we have harvested 1.5 tonnes of potatoes (which right now seems it will last until the next harvest). We are now preparing the soil of the 5 big beds for potatoes. Each bed is 35 meters long and 3 meters wide.
Let this sink in.
This is our potato production area!
We are now working on getting those beds ready by removing stones, weeds and roots (and occasionally finding out a few potatoes we missed in the last harvest). As soon as we finish this we will use our recent magnificent purchase: our rotavator/ tilling machine. That will work the soil 20cm deep getting it ready for planting potatoes this year.
Also in the Walled Garden we will be preparing a new area. Where our chickens used to live we will work the soil (now very rich) and we will have an area for The Three Sisters (beans, pumpkins or squash, and corn). If you don't know about The Three Sisters here is a long story short: when you combine beans, pumpkins/squash and corn they work together in an outstanding way - corn serves as poles for the beans, the beans enrich the soil with their nitrogen-fixing ability and help support the corn in the wind. The large leaves of squash/pumpkins shade the soil to keep it cooler and retain more moisture, as well as preventing weeds. This is a permaculture technique we are very happy to be applying again in our garden farm.
Our small Walled Garden is going to be used to its fullest potential. We have around 45 beds in this part of the garden. Around 10 of them will be resting this year as the soil is quite "tired". (These 45 beds are not on the side of the big potato beds , but in the other section)
In this garden the variety of legumes, vegetables and herbs we are growing is really something to be proud of.
Some of the herbs are: parsley, mint, dill, chives and lemon balm.
Some of the vegetables and legumes are peas and beans, onion, broccoli, turmeric, courgette, garlic, carrots, leeks, cauliflower, lettuce, artichoke and asparagus, cabbage and more.
We will also have strawberries, raspberries and flowers like carnations, sunflowers and wildflowers.
We will have around 30 different types of plants in our garden. With most we have had great success and this year we are going for organic seeds and continuing to grow our products in an organic manner - it is very exciting.
So now we are focusing on getting all the soil ready, we need to get compost and manure in some of the beds and we need to get our nursery going full steam. We have some challenges, like making sure the greenhouse does not have any of the fungus it had last season, we have to make sure our garden is rat free, we have to prepare all beds in time and improve the watering system, we have to put up a new garden gate (happening the coming weekend) and all in all we have to get all the plans we have to become reality.
Besides this we have a whole big and beautiful and very green park to take care of as well as many many flower beds. The fruit trees will give us plums, apples and pears. And the many roses bushes will later beautify our common areas.
There is much to do!
"The garden suggests there might be a place where we can meet nature halfway."
– Michael Pollan