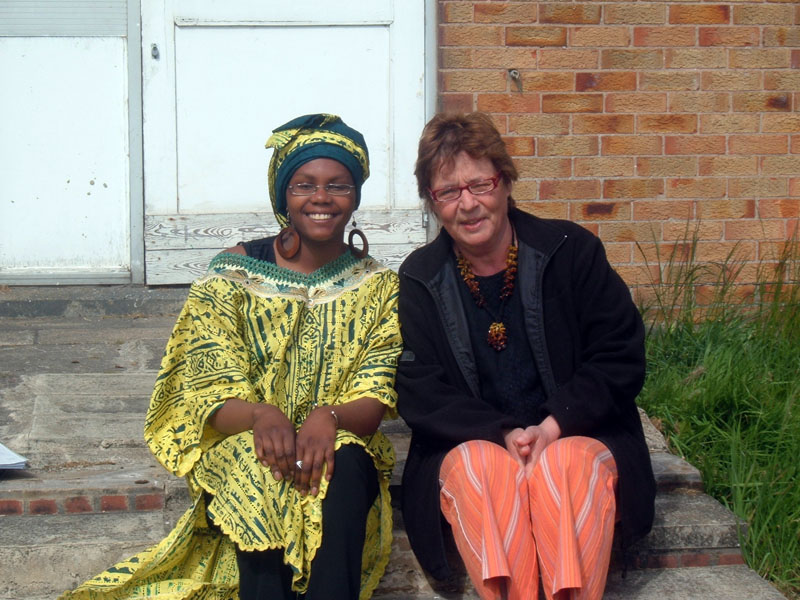 I am Karen Barsoen (to the right). I was born in Denmark in 1951 and lived there most of the time until 1988, when I moved to England.
I joined the first team in DNS in Tvind in 1972. The first part of our education was a bus travel to India. We travelled in groups of 10 in old busses which we had refurbished with bunk beds, kitchens and study places. This was my first experience of travel outside Europe, and I can say that it changed my life and is the direct background that I decided to become part of starting CICD in 1998.
After graduating from DNS I spent 3 years working within the state school system i Denmark teaching many subjects and ages. I loved the work itself - teaching and educating children and young people, but I found it increasingly restricting to work within the established system. After 3 years I decided to leave to work within the private school system. This has a different meaning in Denmark than it has in England - I did not work with privileged kids. I worked for a school called The Small Schools (Smaaskolerne in Danish) with adventurous programmes aimed at young people and adults, for whom the traditional school system had not worked. The programmes included sailing across the Atlantic, flying hot-air balloons, running a zoo, riding horses - and many activities alongside teaching the normal school curriculum. I did most of my work in Denmark, and I did a mix of teaching, report writing and administrative work (apart from zoo keeping and looking after horses).
In 1988 I moved to Norfolk in England to work at The Small School at Red House. My job title was "Administrator, Financial Manager and Music Teacher" - a nice mix. I loved my work there - both the administration part, which was very challenging, and the work with the students.
When the school closed in 1998 Rolf and I decided to start CICD in co-operation with a number of sister schools all over the world. We have educated many hundreds of Development Instructors at CICD who have, each single one of them, contributed to bettering the conditions for people in the poorest part of the world. It is a fantastic job to have. The people who come to CICD are the kind of people I want to be with - people with big hearts and open minds who want to change the world for the better.