Join us 4 weeks or more during June - September!
Price: £ 500 per month, all inclusive
Enjoy life in an international community - Study about climate change and sustainability - Put your hands in the soil and practice organic farming and permaculture.
Read more below about the programme. To get in touch, just fill out the short "Contact form" at the end of this article!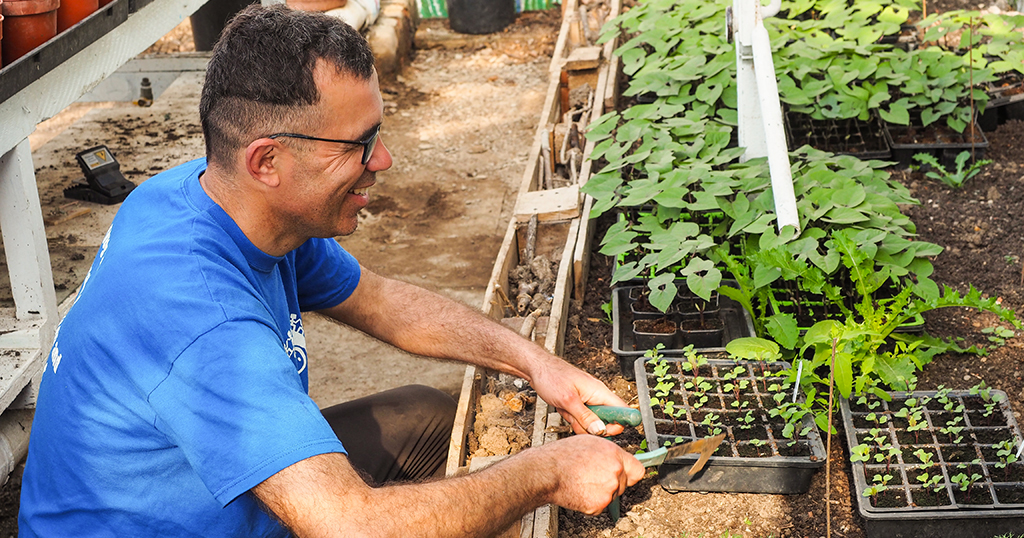 The Climate Activist programme is a response to the growing concern for the environment among people worldwide. Here we come together to learn about the reasons for and consequences of climate change, discuss what to do about it – and take action.
The programme started 31st of May 2021. You can enrol for a month or more, there is no fixed starting date – you join in when it fits with your plans!
The programme is full of education, training, fun and experiences, challenges, hard work and a sense of achievement.
Below you find the headlines for the periods of the programme. All periods also include daily activities in the organic garden farm, and several half or whole days working together with the Garden Team. Click on the banner to the right for more details!
Climate Sustainability and the Climate Crisis (2 weeks). You study the background and reasons for the climate crisis.
Planet Protection (1 week). You learn about the 9 Planetary Boundaries, the Ecological Rift and the importance of bio-diversity and the re-wilding of nature.
Regional effects of Climate Change and Global Warming (1 week). You investigate the regional effects of climate change and global warming in UK, specifically in Hull and East Yorkshire.
Industrialised food production – a major contributor to global warming. (2 weeks) In this period you will study the role of industrial farming and the problems caused by meat production. You get an introduction into the principles of organic farming and permaculture and investigate about food insecurity.
Soil and the science of making it fertile. (2 weeks) You learn about microbes, fungi, composting and mulching and we carry out 3 soil improvement projects in the walled garden.
Energy production and carbon emissions. (1 week) The team studies different sustainable energy sources and how much energy they produce in different countries and in UK. Discuss: Can we manage with renewable energy sources and without nuclear power? Visit a windmill factory.
Energy production for the future (1 week) You investigate energy production in our area and how to expand the sustainable energy at CICD. You also visit West Newton, a rural fracking site for oil and gas near the school, and interview the local protectors.
Repair - reduce - refuse -reuse – recycle – repeat! You learn about the global recycling business by studies and investigations,. We find ways to use the 6 R-s to help our environment recover - and to make CICD more sustainable.
" Period X " - a full week in the organic garden farm. Together your team plan a week full of production, with some of your new learning put into practice creating improvements and sustainable systems. You agree your plan with the garden responsible and go full power for a great week!
Our college is organised like a community. As a student and activist here, you will be part of running the school and taking care of the daily duties such as cooking and cleaning.
The week days start with breakfast at 7.30 and finish with dinner at 19.00...…..and then there is often an evening programme you can join!


Your daily life will consist of many different elements:
Individual studies and research
Lectures about global warming and related subjects
Cooking and washing up
Budgeting
Practical tasks and learning in the organic garden farm
Presenting what you have learned for the team, maybe the school
Playing ping pong or other sports
Joining a music evening
Going on field trips, building up a team spirit in your group
"Building Weekend" doing maintenance with everyone at the school
Common Meetings with interesting news and discussions of common issues
Be prepared for an untraditional school where "Development" and "Change" are headlines!
Alone the world changes you. But together we change the world.
Would you like to know more?
For more information, fill out the short contact form. We look forward to hear from you!