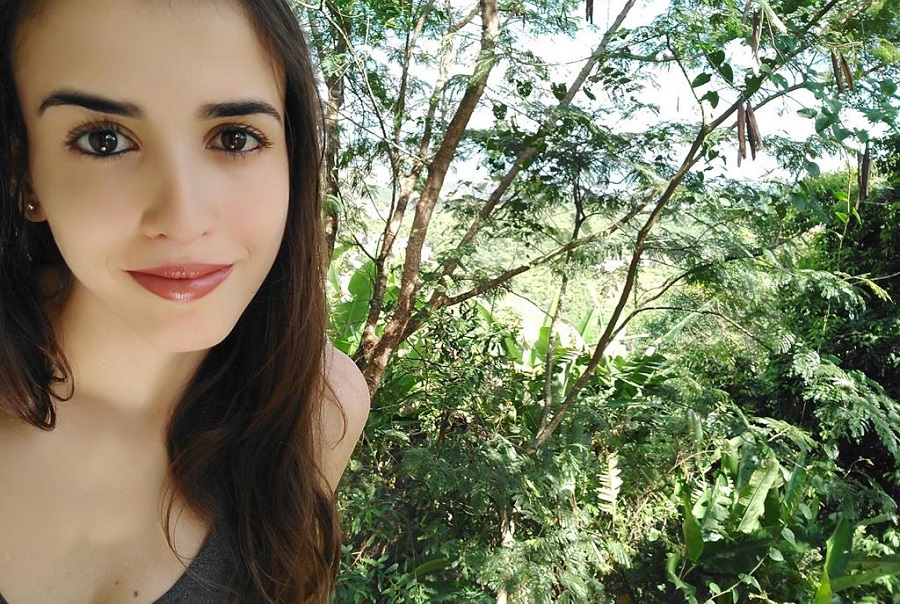 Hello, everyone! My name is Nayara, I'm from Rio de Janeiro, in Brazil, and I've recently graduated from university in English and English-language literature. As you might see, I love the English language and culture, and that's why I chose this subject area. I'm a freelance translator and Portuguese teacher for foreigners as well, but until April this year, I was just one more employee in a company like millions of others in my country (and around the world too). I never liked the common life to which most people subject themselves; the idea of going to an office at 9 am and coming back at 6 pm, together with the rest of the city, doing the same work again and again, and watching life pass me by just for a salary at the end of the month never satisfied me. I always felt like something was missing.
One day, I decided I was going to travel and discover myself. I quit my job, in spite of working for a good company, so I could continue to perform as a translator and a teacher, but I'd be free to work according to my own schedule and needs—and I could work from anywhere, this is very important to me. At first I was afraid, but later I discovered it was a perfect decision because I started to have more options and more freedom. However, despite raising my earnings and working less, I continued to feel unfulfilled.
And then I discovered CICD on Instagram, through an advertisement. I sent a DM to one of its former volunteers and she told me about her amazing experience here. I saw the Gaia Programme as the perfect match between my passion for traveling and learning and giving my time, knowledge, and energy to something that goes beyond my own needs as an individual. I always knew that sharing was the best way to have more: more learning, more fullfillment, more good memories etc. But I didn't know exactly how to do it without giving up on my personal expectations regarding my career and my lifestyle, which are still important for me. I think it's vital not to put your own dreams aside, for they drive us forward. Sometimes we just need to adapt them to the circumstances and lessons we must go through. And I knew I needed to learn more about the world outside my bubble if I wanted to take my life to another level. Many of us want a better this and a better that, but we should make ourselves better before demanding something from life, right?
When I arrived at CICD one week ago, I was a bit scared; I had no idea how things were going to be. I kept thinking "Have I made the right decision? I'm practically leaving everything behind to live a life I never lived before." I have travelled abroad alone before, but never like this, in a community with people from all around the world and for so long. And the more I stay here, the more I see how good it was this decision to come to England, the country I love and I've been studying about for so many years, living in a community, sharing tasks, and most importantly, learning about the world and its issues in a real way, that is, the way no orthodox institution outside will teach us because the majority of historical and political views outside, especially the institutionalized views, are biased—they hardly take the side of minorities.
Here at CICD we have teachers with experience, who saw these places and problems personally, who faced many difficulties during their stay in another country and overcame them, and who have an open mind and a big heart to the point of dedicating their lives to sharing their experience and spreading the seed in order to make the change they know is necessary. I feel heavily inspired by that.
I really believe that the universe (or God or whatever you believe in) gives us the best, in ways we usually don't expect. I was searching for an opportunity to improve not only my professional skills, mainly my spoken English, but also my personal traits. Now I'm in this beautiful place with lots of tall and colourful trees, animals, a beach nearby, gentle people, and of course, a bigger purpose. In Gaia we learn, but each one do their part to keep things working well. It's good to be part of an ideal and see close up that it's not utopic, that this project delivers good results. In our current Western society, almost no one knows the importance of a volunteer job and how it makes us grow; "You're not working on making lots of money? You're crazy!"
Our future as volunteers may be unknown (actually, everyone's future, right?), but it shouldn't scare us: we're doing good without knowing exactly when or how we shall collect the fruits of our work—if we are planting the seeds, we shall have the fruits when they grow, it's the natural course. We just need to make sure we're doing the best we can with the things we already have, and be grateful for that. Though it doesn't mean we should stop looking for improvement either.


That's why I'm here: I don't know what is reserved for me, and I don't mind. I know I'm doing my best, for myself and for others too. At least I'm trying.
Nayara Mello, Brazil / February 2023 Poverty Activist