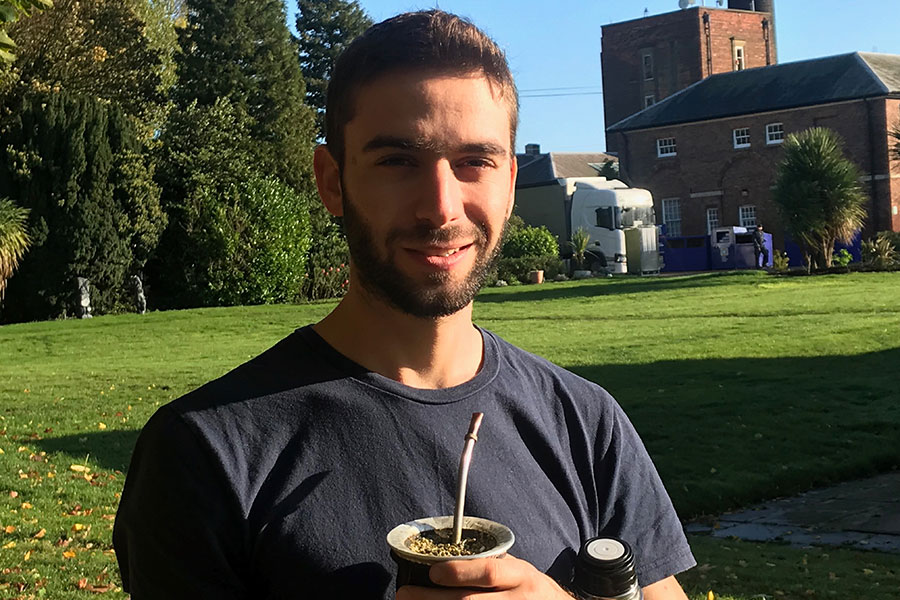 Hello, my name is Martin Cantarini, I am from Argentina, and I also have my double Italian citizenship.
I am a person who has dedicated the last years of my life to study and work with Agronomy, Mechanics and Construction. 3 tools that I consider fundamentally necessary when developing any type of life project.
I think that wherever we go in the world, we need as fundamental factors, a place to sleep, we need to get food, and among other things to facilitate the work of both, we need to introduce machinery and tools what they require from the Mechanics.
If we would add that to both education and Health, we would have all the fundamental factors to start any type of independent project.
I was for 2 years and a half part of a community project where the main idea was to try to be as self-sustaining in terms of food as possible.
Where the system worked from the production of all kinds of fresh organic food and with leftovers make dub-products, then to sell them in an independent market and not only generate money but also educate and raise awareness among buyers of the importance of Organic farming and environmental care.
Then I continued my journey and dedicated myself to travel and want to see other realities and types of life, for example in this case the European, where after two years traveling through different countries of the old continent I could find what I had been looking for for a while, re-enter a life project and expose myself to experiences where not only I acquire knowledge and benefits but also be able to exchange mine.
My main idea is how I explained at the beginning to be able to interact both the Agriculture for the obtaining of food and the work of the land, the Mechanics to give ease and dynamics to the realization of the works, and the construction as a fundamental means of obtaining basic resources and all kinds of materials, a place to be calm and rest every day.
To be honest, it is not Africa itself that catches my attention, since anywhere in the world could be carried out and be necessary, even in this "World of European possibilities"
But to tell the truth - for years I feel that Africa and its different realities attract me and my ideas could be interesting somewhere and serve to change, improve or to facilitate the day to day of some people.
And of course in all this experience that it is not only a "give", but an exchange of knowledge and realities, and be aware that the biggest change is not going to be for the place where the project is developed but also for me, inwardly emotionally and personally!
(In Spanish)
Hola, mi nombre es Martin Cantarini, soy de Argentina, y tambien tengo mi doble ciudadania Italiana.
Soy una persona que he dedicado los ultimos anos de mi vida a estudiar y trabajar con la Agronomia, la Mecanica y Construccion. 3 herramientas que considero fundamentalmente necesarias a la hora de desarrollar cualquier tipo de proyecto de vida.
Creo que en cualquier lugar en el mundo que vallamos, necesitamos como factores fundamentales, un lugar donde dormir, necesitamos conseguir alimentos, y entre otras cosas para facilitar el trabajo de ambas dos, se necesita introducir maquinaria y herramientas lo que requieren de la Mecanica.
Si a eso lo sumariamos tanto educacion como Salud, tendriamos todos los factores fundamentales para iniciar cualquuier tipo de proyecto independiente.
Estuve durante 2 anos y medios formando parte de un proyecto de comunidad donde la idea principal era intentar ser lo mas autosustentable en cuanto a alimentacion.
Donde el sistema funcionaba a partir de la produccion de todo tipo de alimentos organicos frescos y con los sobrantes realizar dub-productos, para luego venderlos en un mercado independiente y no solo generar dinero sino tambien educar y concientizar a los compradores de la importancia de la agricultura organica y el cuidado del medio ambiente.
Luego continue mi camino y me dedique a viajar y querer ver otrar realidades y tipos de vida, por ejemplo en este caso el Europeo, donde despues de dos anos recorriendo diferentes paises del viejo continente he podido encontrar lo que venia buscando desde hace un tiempo, volver a entrar en un proyecto de vida y exponerme a experiencias donde no solo yo adquiera conocimientos y beneficios sino tambien poder intercambiar los mios.
Mi idea principal es como explicaba al principio poder interactuar tanto la Agricultura para la obtencion de alimentos y el trabajo de la tierra, la Mecanica para darle facilidad y dinamica a la realizacion de los trabajos, y la construccion como medio fundamental de obtener de recursos basicos y todo tipo de materiales, un lugar donde estar tranquilo y descansar cada dia.
Siendo sincero no es Africa en si que me llama la atencion como lugar fundamental para intentar poder realizar este tipo de proyectos ya que en cualquier parte del mundo se podria realizar y ser necesario, mismo en este "Mundo de posibilidades europeo"
Pero al decir verdad desde hace anos siento que Africa y sus diferentes realidades me atraen y mi idea podria ser interesante en algun lugar y servir para cambiar, mejorar o para facilitar el dia a dia de algunas personas.
Y por supuesto en toda esta experiencia que no solo sea un ir a "dar", sino un intercambio de conocimientos y realidades, y ser consciente de que el cambio mas grande no va a ser para el lugar donde se desarrolle el proyecto sino que va a ser interiormente a nivel emocional y personal!