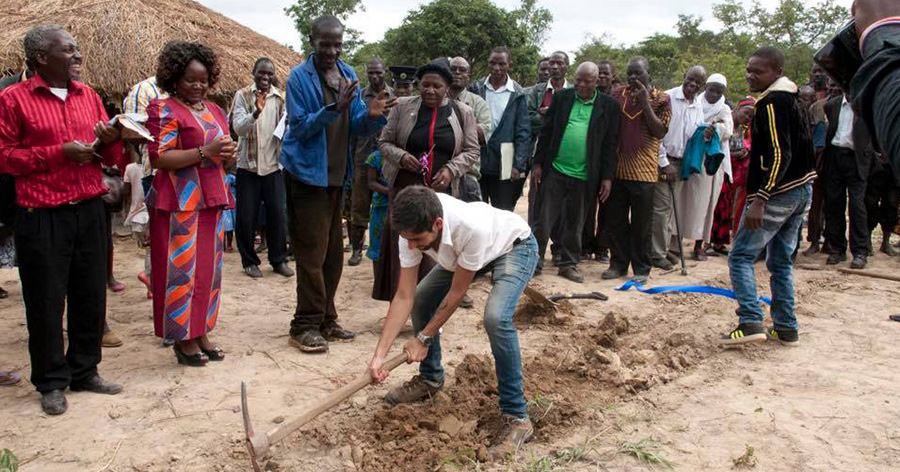 Project: DNS Teachers Training College , DAPP Zambia in Mkushi, northern Zambia
With this report I want to show the work so far by our team, and tell about some of my personal experiences working with the local people and the co-workers from DAPP Zambia.
Before we started, we had a meeting with the Project Leader where we agreed on a schedule for our work and the way we were going to work. We also got an explanation of how things work around here and a briefing of the work of the previous Development Instructors (DI-s)
The work so far has been with many different things:
Work with kids:
Workshops with art
After-school math lessons
Display of movies in a classroom
Sports
Green Actions:
Planting 100 pine-trees
Sowing Mexican seeds
DNS Teachers Training College
Participating in common actions, and socialising with teachers and students.
Work with communities:
Getting to know some of the local communities with a "tour guide" known as Kunda, worker from DNS
Planning and making a video to raise money
Access for all to clean water with mono-pumps:
Getting spare parts and supplies to fix more mono-pumps
Go through some of the mono-pumps in the area and working together with the local people to fix them.
Raising awareness in the communities about the importance of taking care of their mono pumps and having a well organised committee.
I developed a manual for the committee and one of the teachers of DNS worked on the English-Bemba translation. This manual includes an introduction to the importance of living healthy and drinking enough water, the objective of the manual, the people who constitute the committee, the responsibilities of each member, a proposal for schedule meetings to keep track of the work, the safeguard and proper use of the contribution fund and the maintenance of the area in which the monopump is located.
Rain water collection
Building low cost gutters for water collection and teach the local community how to save water and use rain water (during the rainy season) for simple things like washing dishes and clothes.
Developing a manual which will include instructoons for how to build them. This one will be for one member of the local community to instruct and help in the future.
Building a new school
Meeting with the people of the Kachazu area and start planning the construction of a new community school
The shelter for the preschool is finished by the people in the community
Participated in a meeting with local education board secretary to learn how to properly establish a community school in the Mkushi district.
Wrote applications and plans for the construction of the new school
Worked together with the community to register the new schoolwith the Ministry of Education, so it will be able to receive materials and economic aid
Raise money for building the school
Other projects:
Organise and distribute donated clothes
Assist Munsakamba school in the construction of new classrooms
Meet with and learn about the Ward development Committe, the District Councillor and local Headmen to learn about the way they work and how they develop the area
Planning and organising to build a shelter for the mealie machine, which is a requirement to bring electricity to the community
About mixing with the local people
Most of the people here around are great, super friendly and curious about your background and the country you come from. Even if they don;t have much, and in some cases almost nothing, they seem to be somehow more happy than most of the people that I know back home. I'm guessing that by not being so infected by consumerism like us they haven't lost that part of humanity that in my own opinion we lost long ago.
The kids are amazing, really cheerful, sadly some of them are neglected and need a lot of attention, but the main thing they are asking for, and not with words, is love. The first honest and true hug that I have felt in years came fom one of these kids some weeks ago, it almost made me cry to be honest.
But as we know, not everything in life is pink coloured, the alcohol problem here is quite big, from Monday to Sunday you can run into people in the communities that are drunk or getting there.
The staff at DAPP Zambia that we work with have been helpful with us volunteers.
The project and the school really needs economic aid, they don't even have internet, the challenges that someone can face in the bush are many and to run a school, a proper one, they should have the proper tools to do so.
I have to say that the relation with my Project Leaders is quite good, they offer support every time I ask for it and the workers from DNS are always happy to lend a hand. Studens and teachers at DNS are super funny and always want to include us for actions, games and evening events.
Last week I played football with them, staff vs students and had a great time, although at the end I had a accident and injured my toe but now everything is great and dandy again.
A little about life as a DI / volunteer
Here I would like to say that it is an interesting way of living and of spending some months of your life, totally woth it, not easy and it has its dark sides – but again, almost everything is like this.
You have to be sure of your goals as a volunteer and DI and realise that you can do a lot of good to some people but it is also true that if you do things wrong you can do so much harm instead of helping. You have to be prepared to confront yourself more than one timeand break with a lot of standards you might have before becoming a DI. It's a very different way of life and not a bad one if I may add, you just have to be strong and willing to change things in your life.
Jose Torres Landazabal, Mexico / May Team 2017 Fighting with The Poor