Few weeks ago, during our travel period, I faced difficulties which potentially could mean a disaster, but because of a huge support from my school, my colleagues and African people, everything resulted into just a bit spicy trip. I'd love to share this story with you.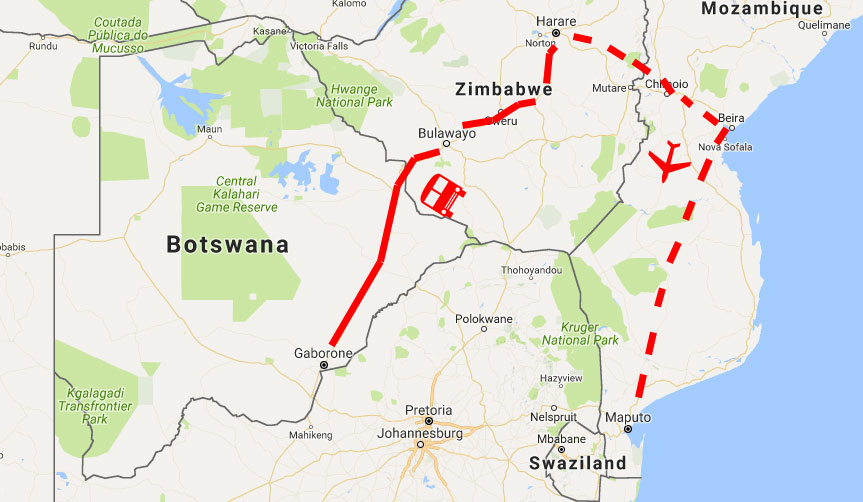 Everything begun with a stupid stupid idea in Namibia. We have traveled from Johannesburg, South Africa, by bus to Windhoek, Namibia.
By my birth outside the EU, I happen to have two nationalities, Czech and Russian, and I decided to use my Czech passport in South Africa, then switch to Russian passport in Namibia (Russians don't need visa in Namibia), and then switch back to Czech for the rest of the countries.
At least, that was the idea! :-)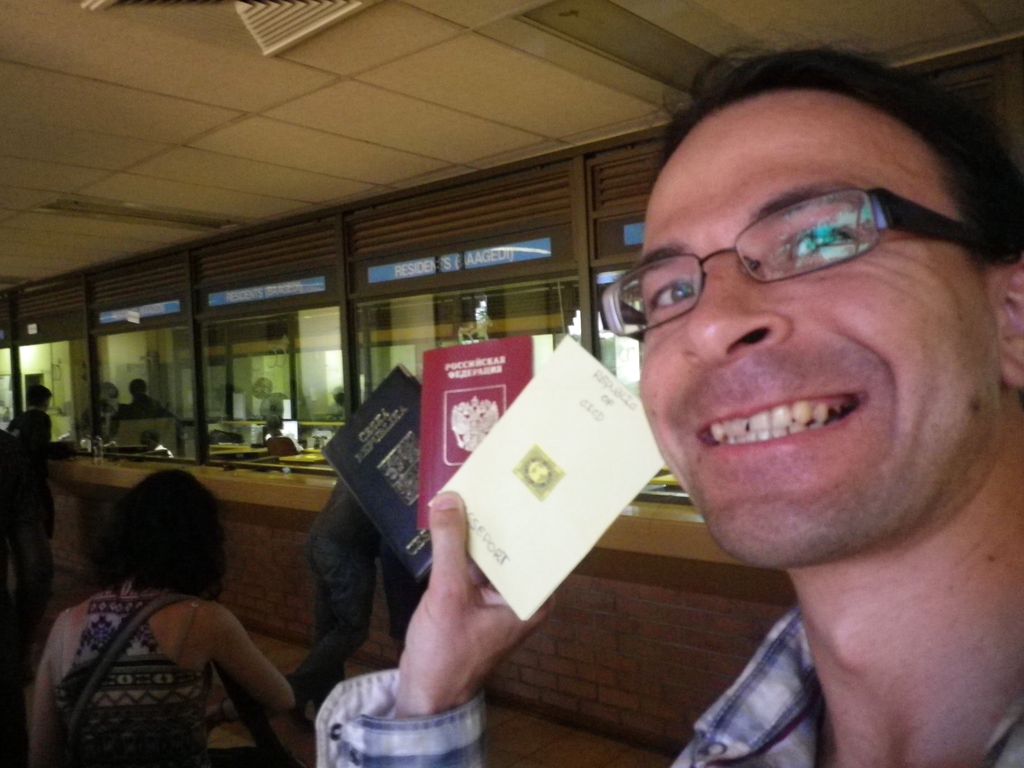 The Namibian border officer wondered about the idea for a while, but – because of the late hour – didn't want to bother himself too much and let me through.
Same happened on the border to Botswana, people there are pretty much "Hakuna Matata" and don't trouble you unless you do something really unlawful.
The difficulties begun when we were about to cross South Africa again, to get to Mozambique.
South African officer didn't let me in with my Russian passport (visa needed), nor could I use my Czech ID, as I cannot magically appear on the border out of nowhere.
What now? – The whole team was halt on the border because of me.
After all, we decided to go back to Botswana and figure out what our possibilities are.
I couldn't apply for a South African visa in Botswana – I needed to apply in my own country – and I couldn't fly to Mozambique, as all the airlines from Gaborone go through Johannesburg.
The only realistic option was, while the rest of the team goes to Mozambique through South Africa, I take a bus to Harare, Zimbabwe, and try to deal with the situation from there.
The plan was agreed with the school and next day early morning we split – I went up to Harare and the team headed down to Johannesburg.
Or – at least it was the plan! :-D
On the station I discovered that the bus can only take me to Bulawayo, half way from Harare.
Oh well, thought I, we will improvise when I get there, so Let's go!
Day went by, as 6 hours later we approached Botswana's exit-border, this time at the north.
A lot of people went cross-country during that Christmas time, so we delayed on the border for 2 and a half hour.
Yet then I faced a real challenge – due to Advent time, all the banks, exchange offices and ATM's were hopelessly empty of USD cash, people were waiting in enormous queues from 4:00am in the morning, and after 4 hours of waiting they could only hear from a bank clerk: We have no cash!
In Zimbabwe, US-dollar is used as currency and I needed it to get visa, to pass through!
That's when the true heart of African people showed up!
A lady in the bus, who I was speaking with, lent me a 100 dollars, even without knowing that I have anything to re-pay with!
The border to Zimbabwe itself was the best I ever encountered – no glass barriers separated you from happy, smiling officers, serious about the laws, but full of jokes about the work.
Despite the fortune and blessed people across the border, our bus had a big delay and we arrived to Bulawayo at 9:45pm at the evening.
All the big buses to Harare were gone; I had no idea of the local routes and most of all, I had no local money, as I gave the rest of the dollars (with some pounds) back to the lady.
Even my phone didn't have roaming in Zim, I was all on my own…
Yet once again I could trust my being to African people!
Another lady from the bus happened to travel just right away to Harare, as I needed.
She called us a taxi, found the route of local buses and even paid my ticket to Harare!
That night I spent at the back seat of the local bus, squeezed between my new friend – she being of true African shapes – and a skinny boy, whose girlfriend slept on our laps.
But never had I felt myself so safe, as when with those friendly and humble people travelling across the country…
We arrived to Harare at 4:00am in the morning.
(That's where I saw those enormous queues in front of the banks, growing to huge sizes even at that early hour.)
My friend stayed with me all the time, to make sure that I get safely to the headquarters of DAPP Zimbabwe – the partner of our school and my contact in Harare.
As my phone still didn't work, she called us a taxi and helped me to get the directions, as I was a bit lost in the 4am-morning accent of the DAPP lady! :-D
She even accompanied me right to the gates of the headquarters, where we parted as good friends.
The following morning me, and now my colleagues, coped with the next challenge – Harare was only the half-way, as my destination was Maputo.
The original plan – to cross the border to Chimoio in Mozambique and then take a bus all the way down to Maputo – wasn't safe at all, due to increased civil conflicts in the land.
After a few skype-calls with my school and coordination with ADPP Mozambique, was agreed that I take an airplane from Harare, directly to Maputo, where I also managed to switch my hell-lucked passports back to the Czech one…
Day and a half later I was united with my team.
Happy to be at the end of my tense trip.
Grateful for the professionality of my colleagues and the warm-hearted nature of African people.
And – after all – ready for the next adventures! :-D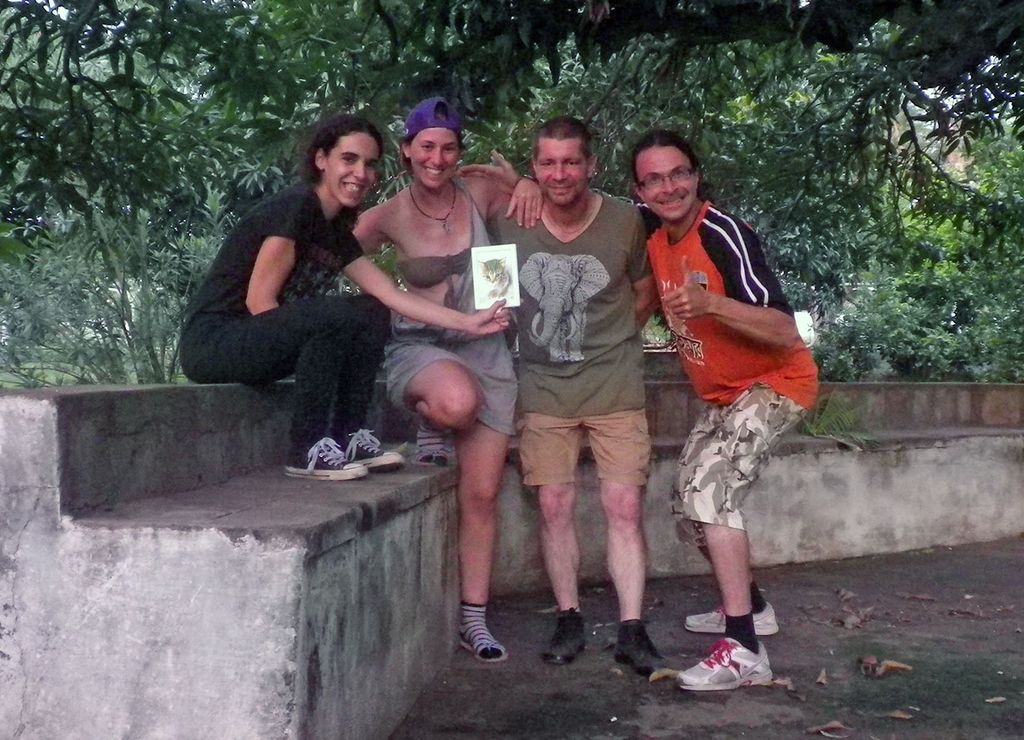 Article by Pavel Kostelei, 24-months FWTP Team February 2016