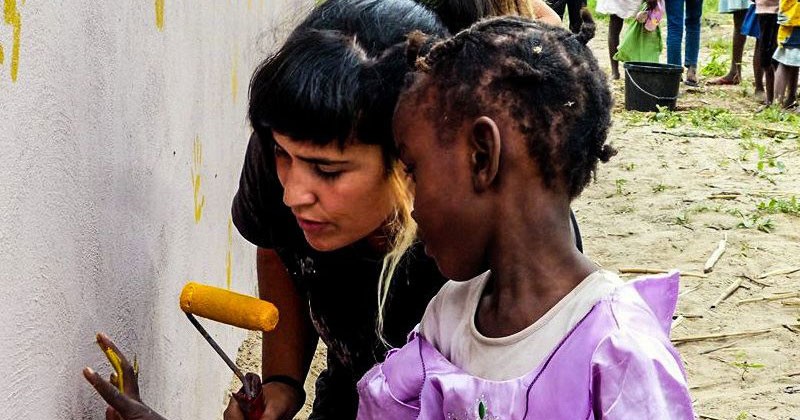 Hi! I'm Andrea from the 2016 November team. We just got back from Mozambique after 6 wonderful months there. Now it's time to move on and start to organise our trip to Greece, and the presentations that we will make in different countries.
Now that the winter is coming I don't know how we will face it! We did it last year, but now it seems unbelievable!
Mozambique was the destination that my team mate Marta and I chose for our service period as Development Instructors. We worked on a huge project called "Food For Knowledge" (FFK), where we got the chance to develop many small projects, but, above all, where we got the opportunity to change the reality of 152 kids. Together we managed to create 3 classrooms, and we managed a way for them to access school even on the rainy days.
We focused on the "School Clubs" so we decided to support them by creating a fun and dynamic manual were they found the tools for developing these clubs.
We also made a plan for building 8 playgrounds for children. A few months later, we got a call where we were told to "get the ball rolling", that 6 professionals were waiting for us to get the playgrounds done. We didn't have anything organised. Actually we had completely forgotten about the plan we had made months before, as we thought that it wasn't going to happen. So we jumped out of bed and started searching for materials. For three days the work was intense, but we managed to create the 8 playgrounds for the children!
When we arrived we were shown various schools and we saw the amount of neccesity in the south of Mozambique (I guess the north is similar but I didn't get there) They really need facilities since they teach under the trees which means that when it's rainy they cannot go to class, and when it's cold they freeze (because though you may not think so, it gets really cold...). FFK recommended us to visit the school in Xirindza and when we saw it, we decided to stay there. We worked there for 4 months building 3 classrooms. We fundraised and found materials which were donated by local bussinesses and once we got all we needed, we got in contact with the community and started working with them. We worked together, Marcos and Fernando (always there), the students and us. It was an experience that we will never forget.
It was an amazing experience, but 6 months seem too short there. Once we were completely adapted to the place, our town Manhica, with many friends, absolutely happy... we had to come back to the english winter, but always with the hope of returning to Mozambique... And we will. Very soon.